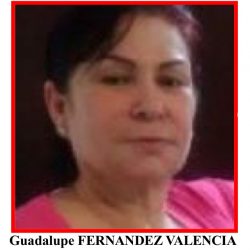 CHICAGO (AP) — A high-ranking operative in Mexico's Sinaloa drug cartel appeared in a federal court in Chicago to face conspiracy charges.
Guadalupe Fernandez Valencia is accused of coordinating the distribution of thousands of pounds of narcotics across the United States.
The 57-year-old Valencia on Wednesday listened though a Spanish interpreter as a prosecutor detailed the charges before U.S. Magistrate Judge Jeffrey Cole.
Valencia was arrested in February 2016 in Culiacan in the state of Sinaloa. After extended extradition proceedings, she was flown to Chicago on Wednesday for her initial court appearance.
Sinaloa cartel boss Joaquin "El Chapo" Guzman was sent to the United States last year from Mexico. He has pleaded not guilty to charges of running a drug trafficking cartel that laundered billions of dollars and oversaw murders and kidnappings. Guzman is expected to go on trial next year in New York. (Photo US Treasury Department)