Nick Deranek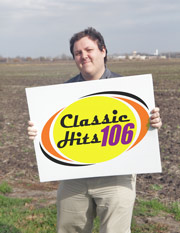 Originally from South Bend, Indiana, Nick now calls Cedar Point home. Nick serves as the News Director for Studstill Media, Morning Show Host on AM 1250 WSPL and is currently hosting the afternoon show on Classic Hits 106 from 3 until 7 PM. He is a graduate of the Illinois Center for Broadcasting in Lombard in suburban Chicago with a degree in Radio and Television Broadcasting with advanced instruction in Radio and Television Production.
Before joining Studstill Media, Nick was a public address announcer at the University of Notre Dame for two years as the voice of Irish women's volleyball, as well as working within men's ice hockey, baseball, softball, and men's and women's lacrosse and at a time was the voice of Jaguars volleyball and softball at IUPUI in Indianapolis. Nick has been doing public address since 2003, when he was a freshman at Mishawaka Marian High School in Indiana. He continues that practice today as the voice of Lady Bulldogs volleyball and works as a back-up for other sports at Streator Township High School. Nick also serves as the statistician for Bulldogs men's basketball.
Nick is married to his wonderful wife Ashley. In his spare time, he enjoys hanging with friends, cosplaying, going to anime conventions, and a fine cigar. A fan of all Chicago sports (except the White Sox and hockey where his allegiance lies with the Boston Bruins) and is a big fan of the Notre Dame Fighting Irish.