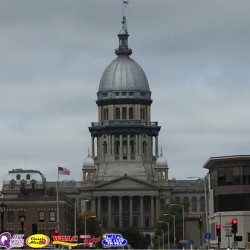 SPRINGFIELD, Ill. (AP) — Gov. Bruce Rauner is proposing what he calls a balanced budget. But expected spending outstrips revenue by at least $4 billion. And it could be more.
Rauner gave his third budget address Wednesday amid a two-year budget stalemate.
The first-term governor outlined a plan he said would spend $37 billion. But revenue is only expected to come in at $33 billion.
Rauner budget director Scott Harry says lawmakers can help fill the gap by agreeing to unspecified spending cuts, tax increases and economic growth.
But the plan actually would spend $39 billion unless Rauner is able to make changes he seeks to pension costs, health insurance and more. Much of those cuts need legislative approval.