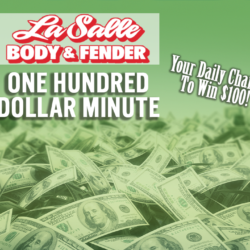 The Classic Hits 106 LaSalle Body and Fender $100 Minute is back! Tune in to the Morning Mess weekdays with Sloppy Joe and you could be the winner of $100. Listen in for when to call and the 7th caller will have to answer 10 questions right in 60 seconds. If you can get all 10 questions right, you'll win $100. But even if you don't, you'll still win $1 for every question you do get right!
To participate, be the 7th caller when prompted by the on-air announcer each weekday morning, Monday through Friday. Participant must correctly answer 10 trivia questions in 60 seconds to win $100. If the participant does not answer all 10 questions correctly. participant will win $1 per question they do answer correctly. Dollar value varies by day.
Contest Line: 815-224-3850
Contest Begins: 9/19/2022
Contest Runs: Monday-Friday
Contest Ends: 10/28/2022
Contest Rules: No purchase necessary. Standard contest rules apply. Sponsored by LaSalle Body & Fender. Winner is based on the seventh caller to reach the station when prompted by announcer. Five winners a week. Prize value varies.