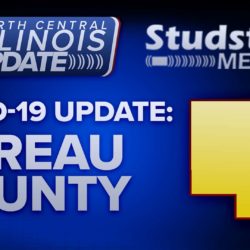 PRINCETON – The Bureau, Marshall, and Putnam County Health Departments is reporting increasing numbers of coronavirus cases over the weekend.  According to health department administrator Hector Gomez, 91 cases were reported in the 3 counties, including 77 in Bureau County alone, on Monday.  And with the 45 cases reported on Sunday, that means 136 cases in the past two days.
Gomez says that "this situation is not going to get better on its own," and that "we can expect that difficult steps will be taken to slow this disease if things don't improve."  The Health Department reminds people to, among other measures, avoid large crowds, social distance, wear a facemask, and wash your hands.
BPMCHD will be offering free drive-up testing on the following dates and locations. If you have an insurance card please bring it – but no one will be charged personally for a test.
November 11th
Bureau County Health Department
526 Bureau Valley Parkway in Princeton
9:00am to 5:00pm
November 12th
Putnam County Emergency Management Agency
1120 Old Highway 26 in Hennepin
9:00am to 5:00pm
November 13th
Lacon Community Center
405 N. Washington St. in Lacon
9:00am to 5:00pm
November 25th
Bureau County Health Department
526 Bureau Valley Parkway in Princeton
9:00am to 5:00pm