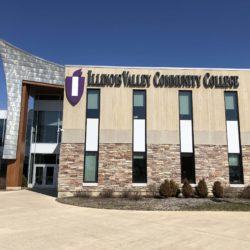 OGLESBY – Illinois Valley Community College is partnering with Illinois State University and four community colleges to address the teacher shortage, board members learned Thursday. IVCC, Heartland, Spoon River, Carl Sandburg, and Illinois Central will be part of ISU's "CommuniTeach: Community Partner Pathway Program" cultivating local talent to become teachers who return to their communities. Next fall, CommuniTeach students begin community college courses. ISU classes start in fall 2022. The first graduates will be teaching in 2025.
"We continue to hear about the problems Illinois superintendents are having filling open teaching positions and finding substitute teachers," IVCC President Jerry Corcoran said.
"This will increase access for place-bound students to complete a bachelor's degree and teacher licensure through their community college with limited trips to ISU," he said.
"ISU's coursework is ideal for part-time students since much of it will be online and hybrid with face-to-face instruction just two-to-three Saturdays per semester. It's perfect for working professionals and nontraditional students," Corcoran said.