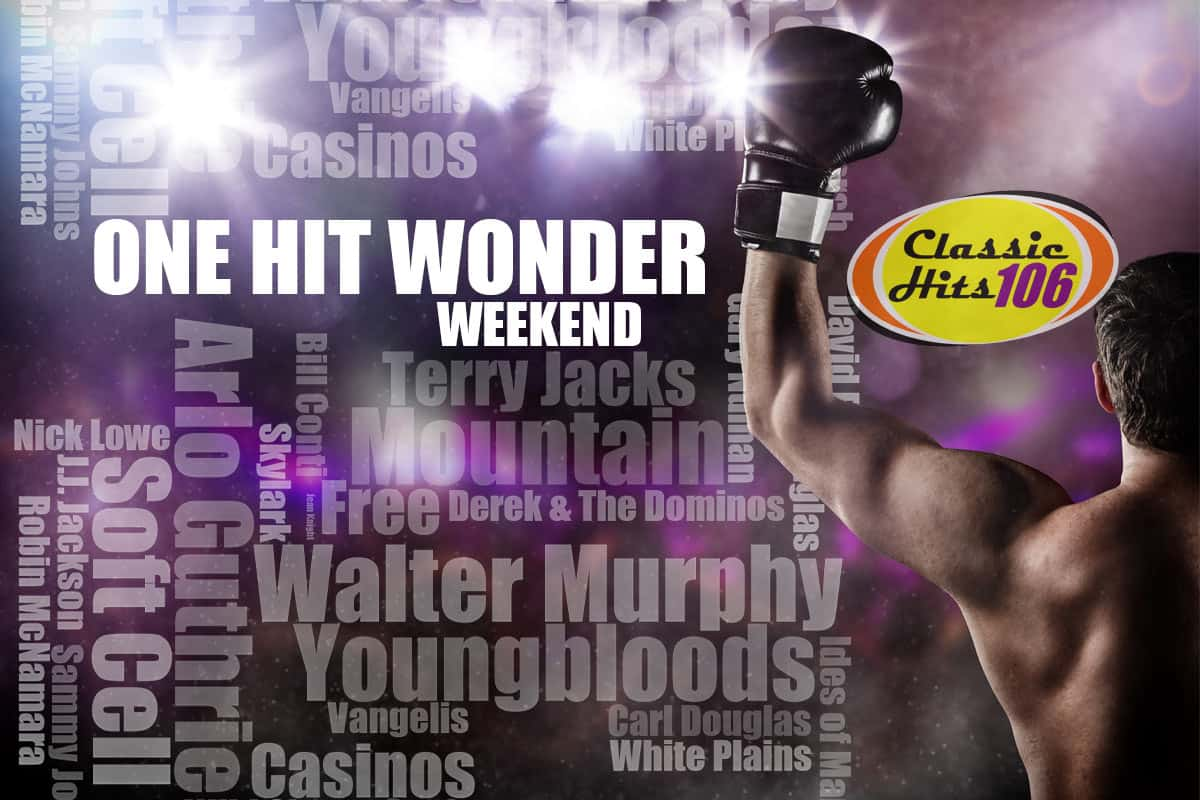 October 4th through the 6th is

One Hit Wonder Weekend

! All weekend long we will be playing #1 Hits by groups who have had no other billboard charting hits.
Listen on your FM radio by tuning to 106.1, or hear us online with our free mobile app or live stream!

---
Some of the artists we will be playing are: Walter Murphy, Starland Vocal Band, McFadden & Whitehead, Free, Pacific Gas & Electric, Smith, T.Rex, William DeVaughn, First Class, Patrick Hernandez, Stories, J.J. Jackson, Rivieras, Gary Numan, Vangelis, Sammy Johns, Arlo Guthrie, Dexys Midnight Runner, France Joli, CaPitols, Nick Lowe, King Harvest, Contours, Peter McCann, Carol Douglas , Bobby McFerrin, Samantha Sang, Elvin Bishop, Buffalo Springfield, Easybeats, Lipps, Inc, Youngbloods, Bill Conti, Hugh Masekela, Lemon Pipers, Johnny Bristol, Pratt & McClain, Richie Havens, Eddie Holman, Bruce Channel, Focus, Argent, Nick Gilder, Mouth & Macneal, Ace, Billy Swan, Alicia Bridges, Mungo Jerry, Zagar & Evans, Benny Mardones, Apollo 100, John Fred & His Playboy Ban, Grover, Washington Jr & Bill, Georgia Satellites, Amii Stewart, Carl Douglas, Robin McNamara, Derek & The Dominos, Dazz Band, Shannon, Reunion, Music Explosion, Mercy, Edison Lighthouse, Nazareth, Minnie Riperton, Pilot, Walter Egan, David Naughton, Toni Basil, Mountain, Bobby Bloom, Spiral Staircase, Jean Knight, White Plains, B.W. Stevenson, Steam, Human Beinz, Hurricane Smith , Brewer & Shipley, Five Stairsteps, Chantays, Wild Cherry, Clint Holmes, M, Hot Butter, Climax, Taco, Blues Image, Dr. John, Anita Ward, Rick Derringer, David Essex, Lynn , Anderson, Frankie Ford, Terry Jacks, Shirley & Company, Thomas Dolby, Undisputed Truth, Sanford-Townsend Band, Suzl Quatro, Jonathan Edwards, Wadsworth Mansion, Soft Cell, and many many more.