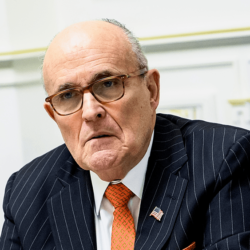 According to an exclusive New York Times report, Rudolph Giuliani — the attorney and former adviser to President Donald Trump — is in discussions with the House panel investigating the Jan. 6, 2021 attack on the Capitol, and may agree to answer their questions.
Giuliani indicated through his lawyer that he's less hostile to investigative efforts than some of the other members of Trump's circle. His cooperation could provide a major breakthrough in the panel's investigation. Sources say that Giuliani was discussing whether to give investigators a formal deposition or an informal interview, and he may also seek to block some information from questioning by invoking attorney-client privilege with Trump.
The House panel subpoenaed Giuliani last month, alongside three other Trump aides — attorneys Jenna Ellis and Sidney Powell, and former campaign adviser Boris Epshteyn. Previous reports indicate that Giuliani was a key player in a plan to seize voting machines in the weeks after the election using the Department of Homeland Security. Giuliani also faces a defamation lawsuit filed by Dominion Voting Systems, which states that he spread baseless claims that the company attempted to help Joseph Biden steal the 2020 election.
Editorial credit: paparazzza / Shutterstock.com